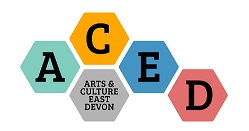 Arts and Culture East Devon (ACED) is a network connecting the artistic communities of East Devon and providing a central platform to engage, network, promote and talk about arts and culture across the region.
PURPOSE
A public network for East Devon arts and cultural services such as theatres, museums and galleries, programming festivals, delivering workshops and participatory and music events, commissioning public art, working with local social, wellbeing, inclusion and economic development agendas and supporting local arts and culture organisations and creative businesses
AIMS
Provide support for professional and artistic development, enabling partnership
Develop and promote local authority arts and culture-led economic growth initiatives
Support advocacy work for local arts and culture services and identify areas for collaboration
Share news, best practice, plans and ambitions - aiding communication between arts practitioners, arts organisations, non-arts organisations, local government and regional and national bodies
Embed the role of the arts in the cultural, social, educational, environmental and economic life of the district
Increase participation in cultural activity in the district, developing a healthy social and cultural ecology which engages and enriches communities
Format
3 ACED Network meetings a year

2 Arts & Culture Forum meetings a year (led by East Devon District Councillors) 

Bi-monthly newsletter: sign up
Culture Champions - if you would like to offer to become a champion, please email us: info@thelmahulbert.com. Find out more about our Champions.
ACED Education Champion - John Astley
ACED Engagement Champion - Anna Fitzgerald
ACED Decolonisation Champion - Ella S. Mills
ACED Crafts Champion - Gemma Girvan
Next forums and meetings:
Next Arts & Culture Forum 

(online, led by East Devon District Councillors)

: 12.10.22, 10am. 

Next 

ACED Network Members meeting: 

21.11.22, 9.30-11.00am- end of year festival round up. Agenda to follow.
Funding: find out about Innovation and Resilience Fund in East Devon
Sign up to the ACED newsletter for news, events and grant opportunities for culture organisations, festivals, artists, creatives and performers across East Devon.