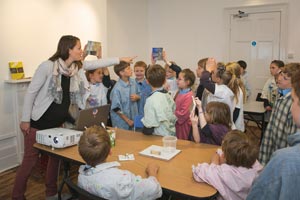 We welcome school groups to THG.
The gallery is free to visit. The workshops usually take inspiration from our current exhibition. Many workshops are offered free or at reduced rates for local schools. We offer a curator-led tour, followed by an artist-led workshop in the Learning Room (max of 16 pupils).
Angela Blackwell, our gallery curator is the recipient of the Marsh Award for Excellence in Gallery Education (Nov 2012) for her dedication to making the visual arts more accessible.
Please note that all group visits must be pre-booked with the gallery. Please email or call 01404 45006 to let us know when you would like to visit.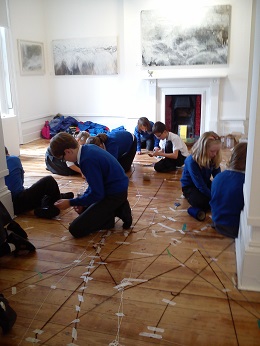 Feedback from schools :
'A really nice, laid-back morning. For a public gallery it felt very intimate. Great space for small group workshops. Inspiring surroundings in workshop space and the gallery itself.'   Head of Art visiting with Year 9 pupils                                                   
'The children were completely absorbed by the gallery displays and the weaving itself. It enabled them to develop a practical skill as well as to be creative. I think being able to have a go at such a craft in a gallery setting is really important in inspiring them and they clearly loved it!'   Primary School teacher with Year 3 & 4 pupils